Frequently Asked Questions
Quickly find out if we've already addressed questions that you might have.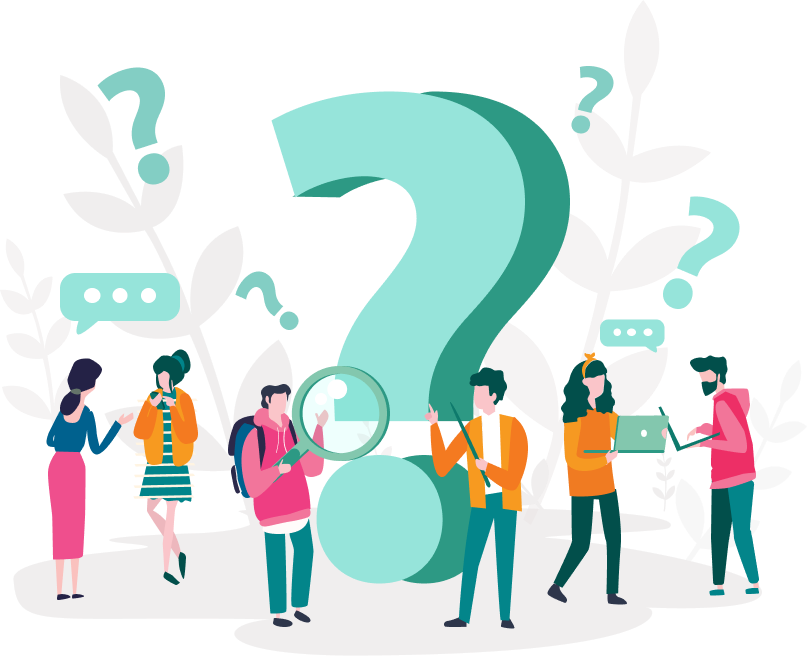 With the pandemic and industry 4.0 making job markets more competitive, people need to continuously improve themselves to compete. This is now the only way to truly secure one's future. This makes access to quality education, whether traditional or non-traditional, as important as ever.

There are 30 million underresourced youth in the Philippines who can't afford higher education and upskilling to move up in life. Due to their risky situation and lack of collateral, young but high potential dreamers are considered unbankable by formal financial institutions. Moreover, with less jobs available due to the pandemic, the youth entering the labor market for the first time will be at a great disadvantage competing with older, more experienced jobseekers. In short, the future of young Filipinos is presently a game of odds. InvestEd exists to change this unfair reality.

InvestEd envisions a world where every young dreamer has no barriers to success. Our mission is to empower underresourced youth in their journey from education to adulthood, through a high tech, high touch human development program. Our program provides capital, coaching, and community- the success essentials of a budding adult in a fast changing world: Capital for education financing & upskilling; Life skills coaching to succeed in the education-to-adulthood journey; and a community for socioemotional support.

A globally awarded impact business, InvestEd has helped thousands of low-income Filipino youth from 300+ schools increase their income and navigate success in a fast changing world. A landmark invention by InvestEd is its Data-Driven Risk Engine- a proprietary methodology that de-risks student loans at scale. To-date InvestEd has raised more than 125 Million pesos from funders such as Johnson & Johnson Foundation and UNICEF; high net worth individuals such as the Fmr. Country Manager of Mastercard and Fmr. CEO of Bank of America Singapore; and impact funds such as inBest Ventures (Backed by Macquarie and Australian Aid's Investing in Women).
InvestEd offers various award-winning educational financing options that include:
Tuition
Allowance
Laptop
Graduation fees
Thesis/OJT
Rent and curricular expenses
EDUC4ALL LENDING INC. (InvestEd Philippines) is a duly registered corporation in the Philippines under the Securities and Exchange Commission, registered on December 21, 2016 with registration number CS201629776 and Lending Certificate of Authority No. 2714
InvestEd is fully compliant with the Data Privacy Law and regularly vets systems and algorithms used to process loan applications. All information you provide to InvestEd for the purpose of your loan application is kept private and secure and can be deleted upon your written request. See our
Privacy Notice & Terms of Use
.
The CIC is the public credit registry and repository of credit information in the Philippines. Republic Act No. 9510 or the Credit Information System Act (CISA) authorizes the CIC to receive and collate basic credit data from the following entities into credit reports:
Banks (universal, commercial, thrift, and rural)
Credit card companies
Private leasing and financing companies
Government-lending institutions (GSIS, SSS, and Pag-IBIG Fund)
Cooperatives and cooperative banks
Microfinance institutions
Telecommunications companies
Insurance companies and mutual benefit associations
Utility companies (electricity, cable providers, etc.)
Credit reports contain three types of information:

Personal and/or business accounts
Loan accounts
Credit card accounts, installment, and/or non-installment contracts

Credit reports include both positive data (timely debt payments) and negative data (late payments or non-payments)
At the minimum, you must meet the following requirements to apply for a Student Loan.

Be a Filipino citizen or resident.
Be at least 18 years old.
Must be in last three years of college
Must be enrolled in a university in the Philippines.


Click
here
and complete the application form in 15 minutes. You will receive notice of the results of your application and next steps within 2-5 days.
Student applicants can receive as low as ₱10,000 to as much as ₱75,000 for their loan. Loan amounts depend on system-generated data, which our loan officer evaluates together with a student's financial need, year in school, and other factors.

Additional loans are also granted on a case to case basis to student borrowers who have been active Investees (members of the InvestEd student community) for six months.
At InvestEd, your loan will incur interest at 2.1%-2.4% per month. This is cheaper than most private lenders who have rates of 5% up to 30% per month, and often require payment to start immediately.
You may pay in any our payment channels. Listed below: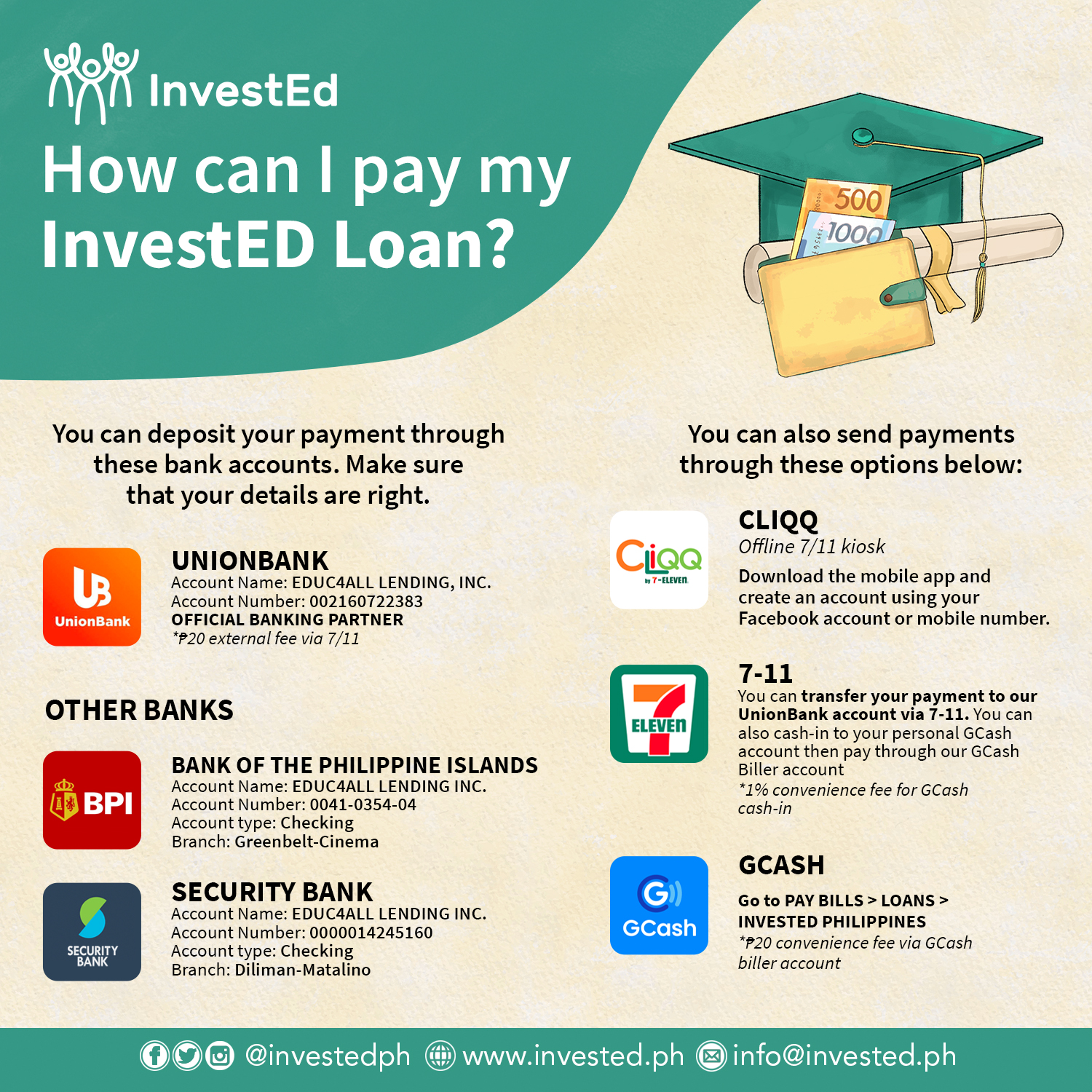 Your SCHEDULED PAYMENT is your amount due for the payment period. We encourage you to pay equal to or over that amount if you have the capability to do so. Paying more than the billed amount for a period decreases your next interest payments thus decreasing your overall repayment in the long-term.

If you are having difficulty paying the entirety of the due amount, you should AT LEAST pay the minimum payment amount or the INTEREST PAYABLE on your loan calculator.
You may refer this in Annex A as indicated on your Investee Loan Agreement (ILA).
You may check the outstanding balance in the Active Loans page. Simply click the loan if you want a detailed view of your loan.
Yes. However, approval is dependent on your repayment behavior and assessment.
You can request an information change in your Profile page. Someone from our team will verify, and will approve/decline such requests. Kindly expect an in-app notification regarding the info request status.
Yes, you may pay ahead of your due date. It will be considered as advance payment and will be posted to the corresponding month it is intended.
Yes, you may pre-terminate your loan. You just need to settle your total outstanding balance and send a copy of your receipt.
Monthly payments are due one month after the grace period ends. In case the due date falls on a weekend or holiday, payment deadline will still be on the same day. It is highly encouraged that the payment be settled before the due date. ALWAYS PAY BEFORE DEADLINE. Your due date is the LAST DAY you are permitted to pay contrary to common assumption that it is the 1st day of payment.
You should notify our collections officer through their respective Facebook account 5 days before the deadline so that they can assist you with a possible solution. However, informing beforehand does not guarantee that you will be excused. Approval of your excuse is still upon the discretion of higher management. Notifying us late or after your deadline will be automatically considered unexcused and charged with amount indicated on Annex A of your ISLA or Student Loan Agreement.
You will be marked as delinquent and it will affect your payment history which is being monitored every month. One's creditworthiness is based on the credit history which includes all your payment behavior from the start of your application up to your repayment stage. It will eventually be submitted to the Credit Information Corporation or CIC – a credit bureau which handles all loan related information of a borrower like yourself that is accessible to banks, microfinance lenders, etc. Being a delinquent will affect your future possible loans. (https://www.creditinfo.gov.ph/).
When you missed a payment, all unsettled amount will be added to your outstanding balance before interest accrues not to mention being tagged as a delinquent. For example, your monthly due is at P2,000 with your current balance at P10,000.00, but you won't be able to settle this month, interest accrual will apply to P12,000 (monthly due of P2000 + outstanding balance P10,000). This is also the case for underpaid or partial payment. There will also be a penalty for late payments which is indicated in your signed ISLA. You may check it at Annex A.
Delinquency is the status of a loan once a payment is not full, late or missed. The loan remains delinquent until payments are made to cover past due amount and bring the account current. Delinquency has different stages and actions depending on the number of days past due date.
No, you may not. This is because your loan has been computed in accordance to your exhausted Grace Period and may no longer be adjusted.

Grace Period is the best time to plan out and prepare for your loan repayment.
One can become delinquent depending on her behavior during repayment. The poorer the behavior, the higher the delinquency status will be and the higher the actions will be. Actions may vary from contacting the guarantor, personal check-ins to subjecting to legal actions.
Based on your loan agreement, you are required to inform and update your collection officer with regards to you and your guarantor's new contact number, address and email address. It is one of your responsibilities stated in the agreement. Failure to do so may lead to breach of contract and legal actions.
If you always pay on time or in advance and no deferment of loans, we can give you an alumni loans (can be used in business, housing, etc.) with lower interest rates, a lifetime referral to our employer partners, access to profession support network – coaching for job offers, work, and others. You can also have access to future investee programs and material.
Yes, you will receive a Certificate of Achievement via email once your account has been validated by Finance Team.
Yes, but is subject for approval provided with valid reason and proof. Once approved, you will be notified and its effectivity is on the next month upon request.
Yes, once you have fully paid your current loan, you will be eligible for an alumni loan with lower interest and service fee.